Finding best Location for Dating Reality Shows will become a bigger problem in next coming years because Love them or hate them, Dating reality shows have taken over reality TV by storm in the last few years. The romance, drama, and mystery often keep the viewers engaged to the very end as they binge through countless episodes in a short period of time. These dating shows give the thrills of single men and women meeting for the first time, sparks flying, couples going through hardships, and finally expecting to have a happy ending. There are many different concepts that each reality TV dating show serves. Some viewers like the unique concept that "The Bachelor" has of several female cast members fighting to win the heart of a bachelor, and some viewers take pleasure in watching matchmaking storylines like "Love Island," while others derive pleasure in the hardship of good-looking, sexually promiscuous contestants as they are told to be celibate for a time period like "Too hot to handle."
One thing all these dating reality shows have in common is that they are set in a stunning beach setting. Blue waters, golden beaches, and palm trees are coupled with luxury dwellings and exotic food and drinks. As a tropical island nestled on the equator, Sri Lanka can provide all these and more. Here are a few reasons why we think Sri Lanka is one of the best locations to let love thrive in paradise.
1. The Sun, Golden Beaches and Deep Blue Waters Embodies Paradise!
Sri Lanka is a tropical island blessed with golden sand, the azure waters of the warm Indian Ocean, and beautiful coastal areas that surround most of the island. If paradise has been lost, it can be found in Sri Lanka's coastal areas. For the filmmaker, this is a treat as you can have a choice of small to large bays, coral reefs, long strips of beach, jungle beaches, sandbars, tied islands, isolated beaches, etc., just to name a few of the natural beauties that are available to film. Filming in paradise has never been easier than in Sri Lanka.
2. Luxury at your Fingertips.
Paradise and luxury go hand in hand like wine and cheese! It's difficult to imagine one without the other in a dating reality setting. The golden beaches of Sri Lanka have several luxury resorts, hotels, villas, and cabanas to create the mood that is needed for romance to thrive. Imagine having sundown cocktails in an infinity pool seamlessly merging with the ocean, or be a little extravagant and have a helicopter ride that will pick you up right on the beach. Sail away into the sunset on a luxury yacht, and if you are lucky enough, you might be able to swim with some spinner dolphins as well.
If it is an indoor shoot, the tastefully decorated beach villa or resort interiors will retain the vivid tropical vibe that we always associate with paradise. As a country that has a rich background in Ayurveda, Sri Lanka has some of the most exotic luxury spas offering massage, herbal therapy, aromatherapy, and ancient Ayurvedic treatments that can be very attractive to capture on film.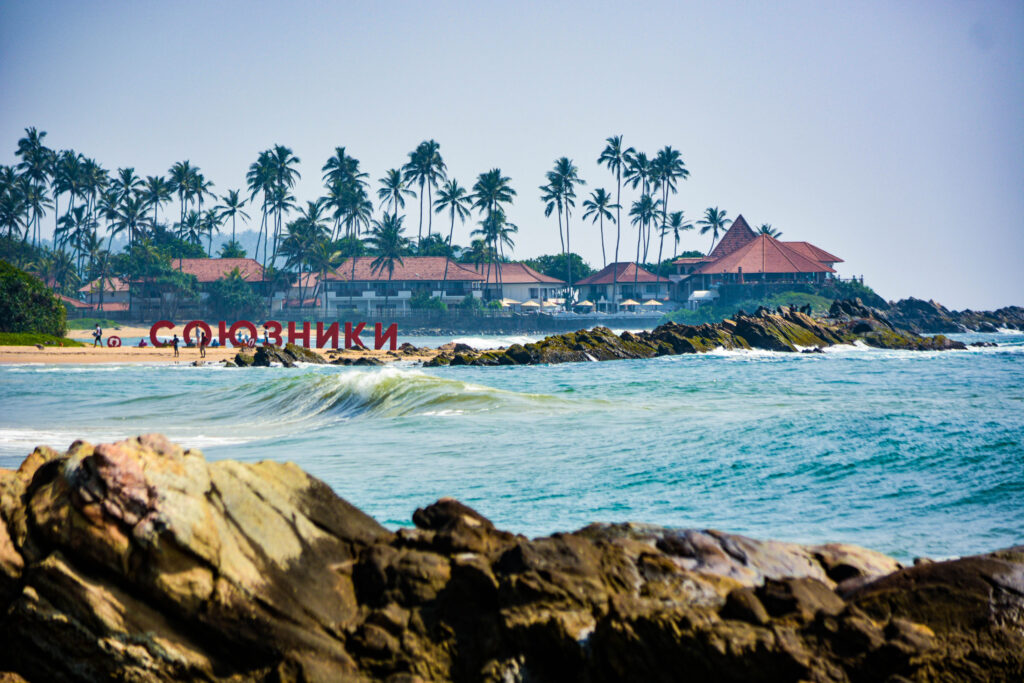 3. Different Location Settings with Minimal Travel Time
Due to the lack of intense intellectual content in dating reality shows, we understand the importance of having a variety of different locations that are accessible within minutes. Special occasions like a romantic getaway, a reward, or a setting for a game or competition can be easily accessed when you film in Sri Lanka. Within a few minutes of leaving a luxurious beach setting, you could be in the mangroves of a freshwater river that flows through Sri Lanka's many networks of waterways, on a tied island off the coast of the oceans that is accessible by foot, or on a massive coconut estate playing frisbee golf! Make maximum use of your production time by accessing these external locations that will add value to your end product.
4. Filming in Sri Lanka is Easy on you Budget
There has been a sharp increase in foreign currency against the Sri Lankan rupee in 2023 as the country battles an economic crisis post-Covid. This means you get more rupees when you exchange your dollars in Sri Lanka, as we are looking to nourish our foreign currency reserves. This will give any filmmaker a significant advantage when productions have a tight budget to work with.
Team Circle 360 unquestionably has the most experience and expertise executing dating reality shows in Sri Lanka. One completed dating reality show in 2022, F Boy Island Sweden, is airing as we write this and has been filmed 100% on the south coast of Sri Lanka. We have the most dedicated team that will cater to your every need when filming in Sri Lanka. From production, art requirements, technical assistants, craft services, transport, lodging, etc., our professional team will attend to all external aspects so you can concentrate purely on filmmaking.
Sri Lanka is a heavily underutilized filming location and one of the best tropical countries in Asia. Thanks to the increase in tourism, Sri Lanka has gained the attention of filmmakers as a fresh location to film. We welcome you to produce your next dating reality TV series in Sri Lanka, and the above reasons are why you should consider Sri Lanka as your next paradise location to film your dating reality series.