Here in Sri Lanka where Halloween is celebrated only in the upper echelons of nightclubs, bars and 5-star hotels, thus you might miss out on the sheer terror of pocketing the mammoth bill after a night out of "trick or treating" that mostly felt like a trick. But what really is Halloween? All Hallows' Eve or Halloween is a holiday observed on October 31, the evening before All Saints Day.
The celebration marks the day before the Western Christian feast of All Saints and initiates the season of All Hallowtide, which lasts three days and concludes with All Souls Day. In much of Europe and most of North America, observance of Halloween is largely nonreligious.
Halloween is celebrated this Monday, October 31, 2022. Hence, It's that time of year to bust open the costume drawer, up your prank game, switch to pumpkin spiced lattes and cozy up with the best all hallows movies the entertainment industry has to offer. We refuse to believe all horror movies are good Halloween movies as its popularity in American culture has given birth to specific Halloween films that stand the test of time and are watched and re-watched each year.
Nope is a stylistically adventurous bold statement Sci-Fi thriller written and directed by Jordon Peel. It stars Daniel "Kaluuya" and "Keke" Palmer as horse-wrangling siblings attempting to capture evidence of an unidentified flying object. This is Peels 3rd movie after the critically acclaimed "GET OUT" (Which also is a great Halloween flick) and has all of Peels signature storytelling shrouded with mystery and nail-biting tension.
Flight of the Conchords star Germaine Clement is teamed up with some of his old comedy cohorts to craft a hilariously spooky mocumentary that does for Vampires what "This is Spinal Tap" did for Rockstar's. The film focuses on 4 Vampires in the run up to the unholy masquerade, as even which the Vampires, Warlocks and Zombies celebrates life and the afterlife. The Vampires have each lived many lives over in different times which makes the banality of their current day to day existence hilarious.
"I would like, if I may, to take you on a strange journey" Is the line at opens this cult classic that transcended its original failing critically and in the box office to become an iconic piece of fiction with a passionate fanbase. The story follows blissfully affianced, prudish, boringly-innocent young pair Barry Bostwick as Brad and Susan Sarandon as Janet that get stranded when their car gets a flat tire and walks into an spooky obscure castle. But what they unearthed is the cross-dressing Tim Curry as Dr. Frank-N-Furter's lair of inexhaustible oddities, just in time to partake in the out-of-this-world mad scientist's proud unveiling of his latest most daring creation: the ultimate male and the perfect sex symbol – the flaxen-haired Rocky Horror! Watch Brad and Janet dive into a rabbit hole of seduction, cross dressing, horror and musical madness which will change their lives forever.
This American slasher/parody classic that parodies hugely successful films in the late 90's like "Scream", "I know what you did last summer" and other all time horror classics such as "Exorcist", "Blair witch project" and the "sixth sense". Starring Anna Faris, Jon Abrahams, Carmen Electra, Shannon Elizabeth, it follows a group of teenagers who accidentally hit a man with their car, dump his body in a lake and never talk about it again. A year later, someone wearing a Ghost face mask and robe kills them one by one… In rather hilarious ways.
The film "Black Swan" follows Natalie Portman as Nina who is a ballerina in a New York city ballet company. She lives with her mother who still has a lot of control over her, but what truly has the most control over her is her work. This shows when the shows director Tomas decides to cast Nina as his first choice dancer for Swan Lake. Nina has competition in a new dancer Lily (Mila Kunis) who impresses Thomas as well. As the two young dancers expand their rivalry into a twisted friendship Nina begins to get more in touch with her dark side which leads to a horrible transformation into the Black Swan.
In October of 1994, three student filmmakers disappeared in the woods near Burkittsville, Maryland while shooting a documentary about the Blair witch, a haunting folk legend that the towns people believe in. These woods also housed a hermit that killed 7 children, needless to say, these woods were evil and that was the premise for the said documentary. They will soon discover that they would get more than what they bargained for. A year later their footage was found, so begins the iconic mythology that shocked audiences and influenced an entire sub-genre of horror films.
This film was a collaborative effort by Jim Henson (The creator of the Muppets), George Lucas (Star Wars), and David Bowie. We're not sure how such a star-studded project came to happen, but we're sure glad it did. The plot: one girl has 13 hours to save her brother from being turned into a goblin by Bowie, the Goblin King. Starring David Bowie and Jennifer Connelly the story follows a young girl Sarah who is reluctant to let go of the dreams and frivolity of her childhood and accept the oncoming responsibility of adulthood. When Sarah half-heartedly wishes for it her baby brother is kidnapped by Jerath – The goblin king. Sarah must go on a journey to the center of a magical labyrinth to confront the goblin king and rescue Toby.
What's the spooktober equivalent of a "Christmas Carol" and "It's a Wonderful Life" we have often pondered…. Cue, Jack Skelington a.k.a The Pumpkin King! And since Halloween is before Christmas, this sits in our spooky movie list well. Directed by Tim Burton this movie is a stop-motion masterpiece filled your favorite Halloween characters who live in Halloween town. Jack however has secretly become bored with the routine of Halloween and wants to do something new. After wandering into the woods, he stumbles upon doors leading to various holidays and enters the portal to Christmas town. Jack decides the citizens of Halloween town should take over Christmas for this year.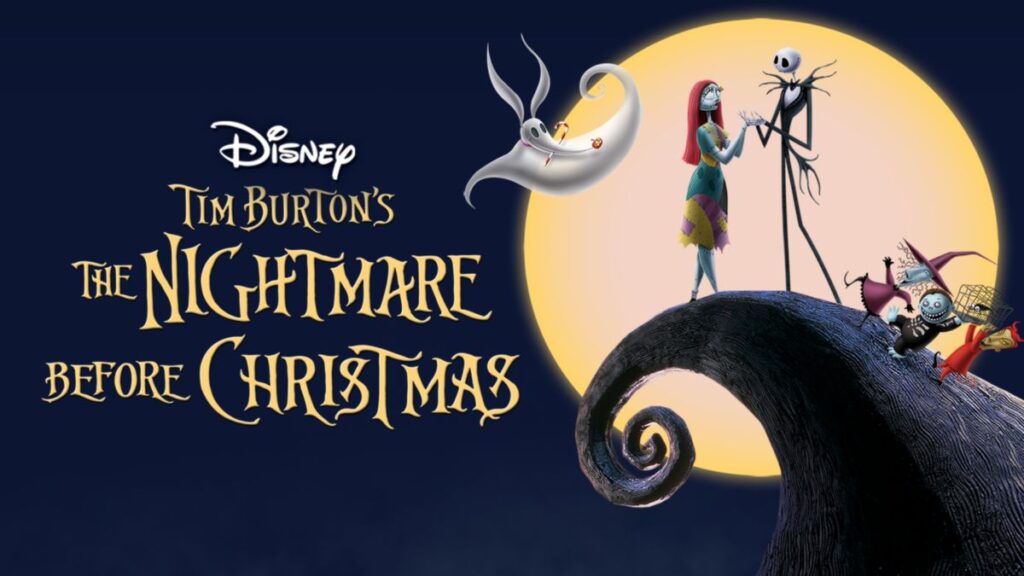 Staying true to dressing up in costume the caped crusader makes it to this list as one of the menacing superheroes to dress up and fight crime without any super powers. Directed by Tim Burton this superhero flick stars Michael Keaton as Batman and Jack Nicholson as the Joker. As the first Batman movie ever made it gives us a glimpse of a crime ridden Gotham city run by a new crime boss Jack Napier who becomes unhinged when he transforms into the Joker.
After watching this movie, you will never look at clowns the same way again. In the Town of Derry, the local kids are disappearing one by one in a place known as 'The Barrens'. A group of seven kids are united by their horrifying and strange encounters with a shape-shifting monster, which disguises itself as a clown and preys on the children of a small Maine town.