Welcome to paradise island Sri Lanka, the teardrop shaped island that is situated just below the southern tip of India. It will be an understatement to call this tropical haven "Exotic", as it's rich in landforms, biodiversity, ancient culture and stunning filming locations.
In this recurring series of "Exotic filming locations in Sri Lanka" we will touch on the many diverse locations that are ideal for shooting. We begin with the only island that is owned privately in Sri Lanka.
A simple glimpse of it nestling in the shallow waters of the Indian ocean will seem illusory as a shimmering mirage. The miniature island within the island of Sri Lanka has been renowned hosts to literary scholars, pop stars, royalty, diplomats, and movie productions shooting in Sri Lanka.
The Island comprises two and a half acres of sheer tropical fantasy with nothing between it and the South Pole. Accommodation includes five en-suite bedrooms, with spacious living areas, balconies, verandahs, tropical gardens and a stunning infinity pool.
History.
Taprobane Island, originally called "Galduwa" (Rock Island" in Sinhalese), is a private island with one villa, located just off the southern coast of Sri Lanka opposite the village of "Weligama".
The island was renamed after the old Greek word for Sri Lanka (Taprobane), by its most famous owner, Maurice Talvande, who styled himself as "Count de Mauny Talvande". He sighted it around 1925 after a long search for an earthly paradise. He built its villa and replanted the island to create a private Eden.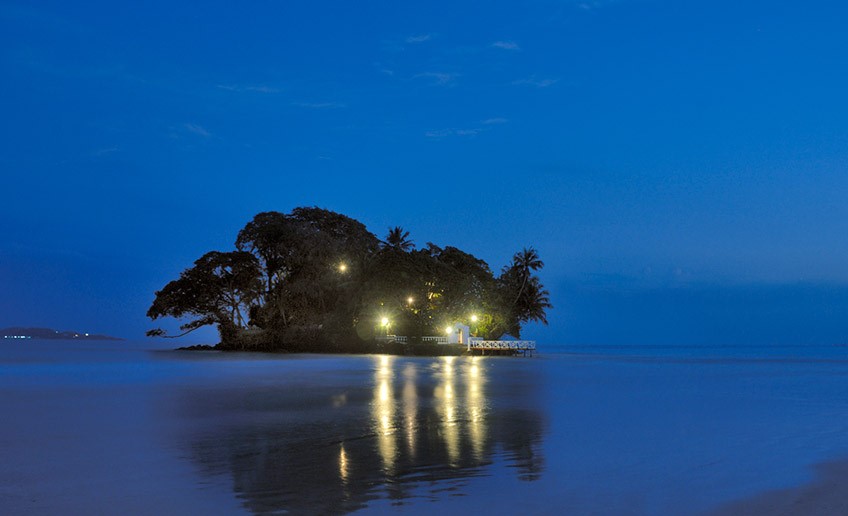 The islet passed on to the American author and composer Paul Bowles and then the Sri Lankan born former United Nations Chief Prosecutor Sir Desmond Lorenz de Silva before it came to the ownership of the Australian businessman Geoffrey Dobbs.
Inside the Island.
The Count de Mauny was a fantasist and a gentleman of leisure who indulged in carpentry and who also designed Taprobane islands magnificent gardens. Today this exotic wonderland with its cascading terraces and sandy pathways is filled with frangipani, palms, flame trees, hibiscus, bougainvillea, heliconia and bromeliads that spill onto the verandas of the house.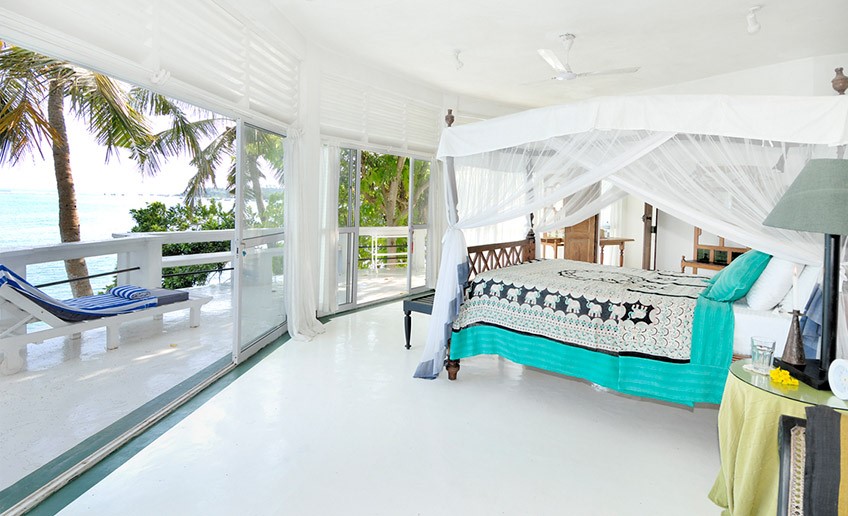 Stone seats and wooden benches mark some of the most breathtaking spots for appreciating the magnificent 360-degree views of the sea, bay, and blushing sunset.
Each of these places offer not only pockets of privacy but also locations for photography, filming, and reality shoots, with each scene changing as the sun makes its daily journey across the sky.
Ageing colonial furniture, faded fabrics, interesting artefacts, well-loved books, paintings, photographs, maps, and framed letters add nostalgia and personality to the property. Some choose to leave the island aside from swimming or snorkeling around its entirety or playing cricket with the locals on the beach.
Conclusion.
"Taprobane" island is one of the best locations to film in Sri Lanka as this exotic island is recluse from the hustle and bustle of the outside world. You can experience ample privacy and freedom to let your creativity run free and let the surroundings create the magic that is needed for a truly unique filming experience in Sri Lanka.